O2 is one of the most demanded and popular mobile networks in the United Kingdom that keeps on growing and attracting more and more subscribers. O2 Company was founded nearly 40 years ago, although it got its current name only in 2002. The brand has changed its owner several times during its existence, but it never affected its popularity and services.
---
O2 mobile services
O2 has a wide range of services to provide to its clients. Although they don't differ a lot from other providers' offers, O2 still knows how to attract customers with something new and interesting. The company offers a SIM-only deal, a service contract or a pay-as-you-go plan to their potential subscribers.
In order to attract more customers, O2 has a wide range of special deals and bonuses.
If you want to take advantage of the O2 reward program, you need to download their mobile application. After this you will get access to numerous discounts and prizes. If you become an active user of O2 mobile app, you may have a chance to save quite a lot on mobile communication.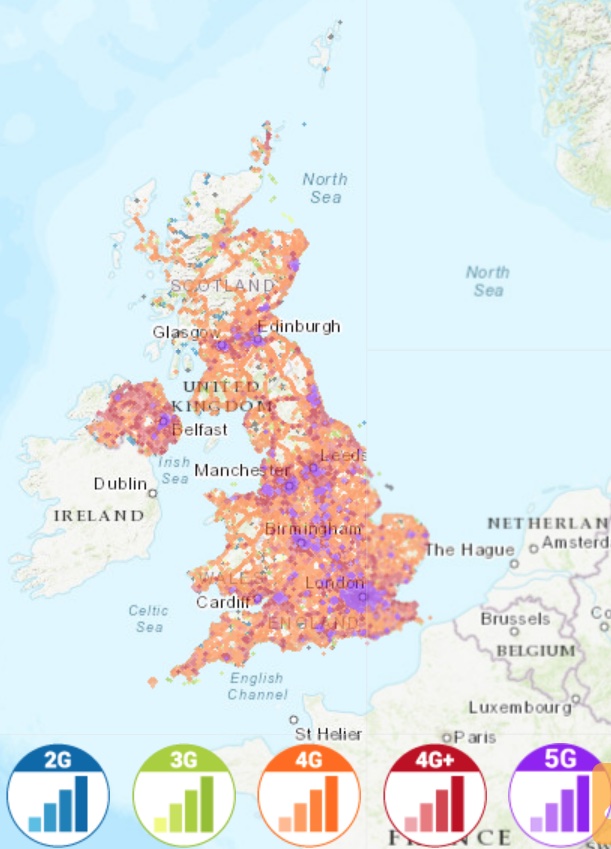 O2 has an impressive coverage - more than 99% of the country's population can benefit from O2 services. The 4G connection was available to 98% of people in the UK in 2017. Currently, the company is working hard to expand its 5G network.
However, let's have a closer look at the pros and cons of using O2 services.
Pros of using O2 services
Perfect coverage
Good choice of services
Flexible contracts
Discounts and bonuses
Cons of using O2 services
Higher prices for services in comparison with other operators
Lack of unlimited data plans
Actually, you can come across a lot of O2 users' reviews, where they write about these disadvantages. For instance, Stacy Thompson from the UK wrote: "In general, O2 isn't bad, but they fail to update their tariffs and provide new options to users. I used to be their subscriber, but then I realized that EE offers more reasonable prices and I switched to the new provider"
Another disappointing review was left by Max Robinson: "I needed to clarify some issues with the support team, but I could hardly get through to them. They never pick up the phone, when you call. It's awful."
Nevertheless, there are a lot of positive reviews as well. Let's see what Daniel wrote: "I got an O2 sim card and it was a real bargain. The deal included 18GB of 4G data, unlimited texts and unlimited calls all for £20 a month. In my opinion, this is more than enough for proper communication. As for the support team, I have no complaints, since the guys in the company are nice and polite. So I'd recommend O2 as one of the best providers of affordable sim deals.
Another positive feedback was left by Suzie: "I've been with O2 for around 15 years now and I've never had any problems with them. I've just upgraded early to the new iPhone with no hassle and didn't have any problems with my first ever phone contract with them 2 years ago."
Thus, we can conclude that the company has a lot of users with different opinions. In any case, there is always space for improvements, and negative feedback shouldn't be ignored. 
If you are an O2 user, but signal issues irritate you from time to time, we know how to help you without changing the operator. Just check the information below and see how easily you can improve O2 insufficient coverage.
---
How O2 mobile amplifier can solve your signal issues
You may be surprised to know that anyone can solve O2 signal issues when guided by a certain set of measures. And you don't have to switch to another operator or change your tariff. Just follow the steps described below. 
All you need to do is to install a mobile signal booster in the area with poor O2 coverage. Thanks to a wide choice of devices, you can easily find a booster suitable for home or office, for small, medium, and large buildings.
In order to make out how a signal amplifier can solve your problems with connection, you should first understand how it works.
A mobile signal booster generally consists of the following elements:
a booster box (this is the central element of the booster set, whose function is to amplify the insufficient signal)
an outdoor antenna (its main function is to catch the existing signal even if it's very weak)
one or several indoor antennas (as a rule, the standard booster kit includes one antenna, but some models come with 2 or 3 antennas. The main function of this element is to disseminate the improved signal to the mobile devices in the area)
Cables and mountings
Now let's take a look at how the booster system works. The outdoor antenna catches the existing signal, sends it to the booster box which amplifies the signal and transmits it to the indoor antenna. The latter spreads the improved signal around the area.
Nowadays, there are a lot of signal boosters which can support simultaneous amplification of different signal types. So you can find a repeater suitable for both GSM and mobile internet amplification. 
---
How is O2 mobile booster installed
Whatever model of O2 mobile booster you choose, their principle of installation is one and the same. All you need to do is to pay special attention to the correct installation of the indoor and outdoor antennas to avoid interference.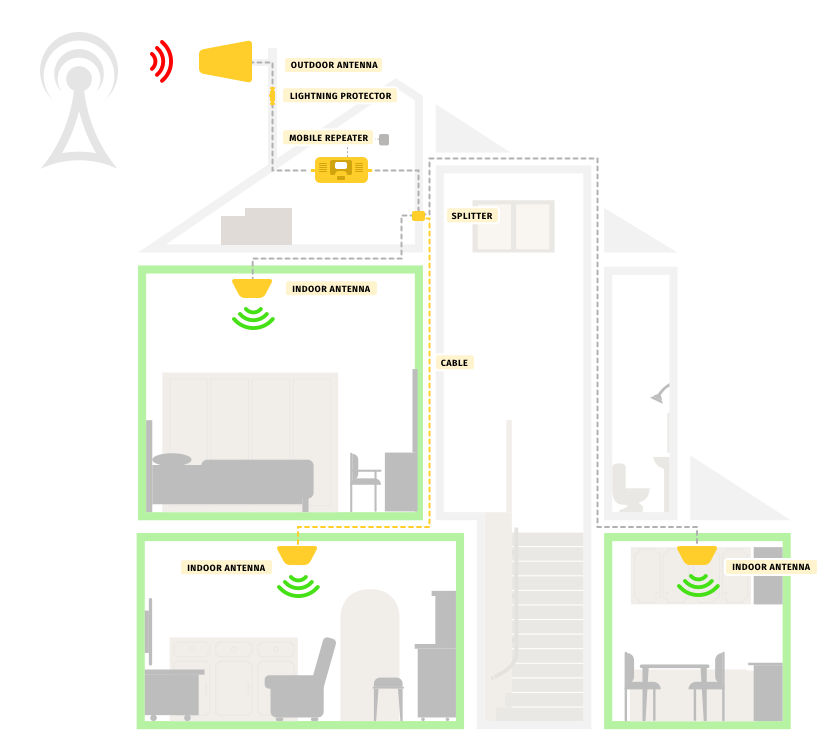 The best place for the outdoor antenna is outside the window or on the roof. For some boosters you need to direct the antenna towards the nearest base station in order to make it possible to catch any existing signal, even the weakest one. There are a lot of models which have an LCD screen, thanks to which the installation process is even simpler, since you can find useful tips on the display during the installation.
As for the indoor antenna, you should place it in the room which suits best for equal signal dissemination. Depending on the configuration, you may find models with ceiling antennas or those, which can be placed on the floor.
Then you should connect the antennas to the booster box with the help of coaxial cables included in the set.
One of the main advantages when ordering an amplifier at Mobile signal boosters is that we offer our clients a full kit, which includes everything necessary for the immediate installation, so you won't need to buy any additional accessories.
We also always send you the installation manual, where you can find detailed information on the set up process for your convenience.
Now when you know how the booster works, we would like to tell you a few words about the options, which you can use to boost your O2 GSM, 3G and/or 4G signals.
Find your option for solving O2 mobile signal problems right now!
---
Variant 1
DIY O2 signal booster
If you are keen on making different things and devices on your own, you may find this option quite all right. However, let's look into it a little bit deeper.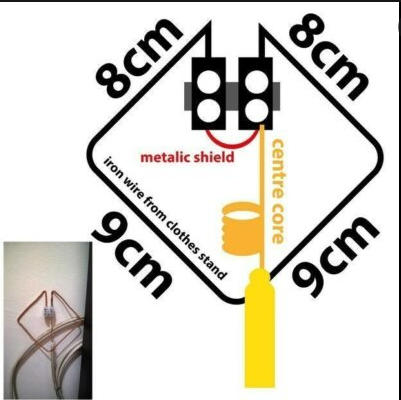 On the one hand, this option is the least expensive, since you don't need to buy any special equipment. But on the other hand, it will definitely lack efficiency and security. So it's up to you to decide.
Here is the list of things you will need to build an O2 signal booster on your own:
a wire (0.35-0.4 m),
a coaxial cable (approximately 10 m),
2 connector blocks,
1 nut and 1 bolt,
1 simple plastic container,
1 water pipe.
Look for detailed instructions on creating a homemade signal booster on our website. If you are not sure that you will be able to tackle this task, think twice. 
Undoubtedly, this option has both pros and cons. Find them below. 
Pros of DIY boosters:
The whole process of building a homemade booster isn't time-consuming.
You don't have to buy any pricey equipment to make it work.
Cons of DIY boosters:
The construction may be rather insecure and it may not provide you with the desirable result.
You will hardly manage to make the device, if you've never dealt with such mechanisms.
You may fail to find all the necessary elements for the construction at once.
Patience and attention is required.
We strongly recommend you to estimate your possibilities before starting building a signal booster on your own. If you are competent enough, go ahead!
---
Variant 2
"No-name" O2 booster
Nowadays, when we want to find something, be it a product or a service, we immediately turn to the Internet, knowing for sure that the answer will come out. Such websites as AliExpress and eBay can offer you hundreds of signal boosters suitable for O2 coverage amplification. However, some of these devices may have an unknown origin, although the price can be quite tempting. So you should be ready for unpleasant surprises, such as fake boosters, which actually don't improve signal at all.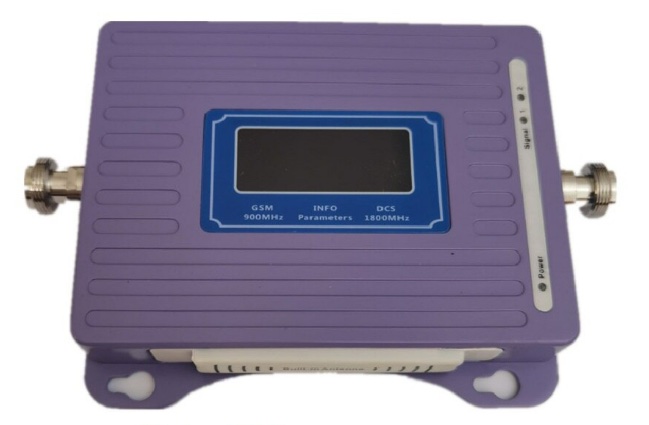 In order not to be deceived by scammers, make sure you buy a device with verified positive reviews. Check whether the company provides all the necessary quality certificates and warranties.
Pros of very cheap no-name amplifiers:
Tempting prices.
Easy to order and to receive.
Cons of very cheap boosters:
No guarantees concerning the quality and the effectiveness of the device.
There may be shipping delays.
Boosters without certificates are not user-friendly, they can emit radiation and do harm to your health.
So if you are not afraid to buy a pig in a poke, this option will be okay for you.
---
Variant 3
Mobile signal booster for calls
If you need to boost only O2 calls, you can consider buying a mobile booster which supports only GSM signal amplification.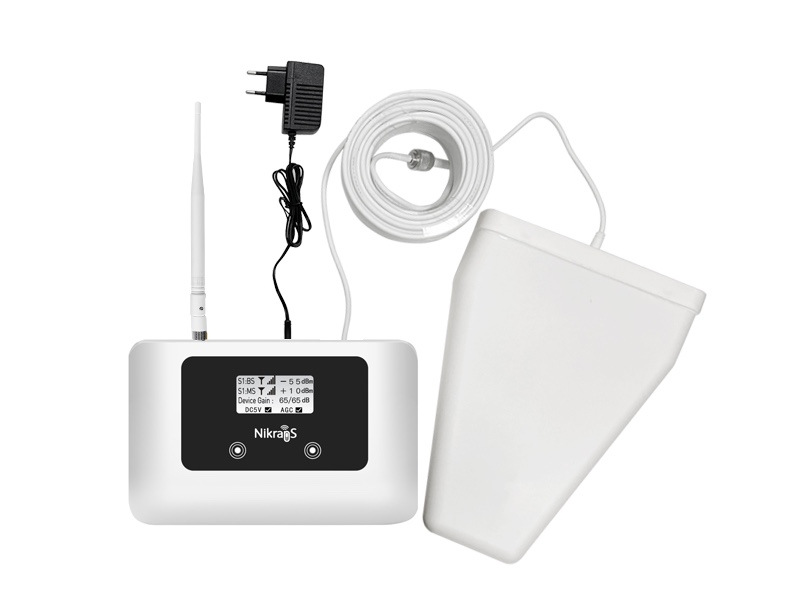 Nikrans LCD-130 will perfectly do that. This is a very compact and lightweight device, which can easily boost voice connection over areas up to 1400 ft². The repeater is quite powerful and it has an LCD screen which significantly simplifies the installation process. It can boost signal for several users at a time and doesn't need any additional accessories to work. 
The only thing you should remember about this model is that it works only at one frequency - 900 MHz - therefore, it's unable to improve 3G or 4G connection. But if it's enough for you, this booster is definitely worth your attention. 
Let's have a look at users' reviews on this model.
Nicky from the UK wrote: "One of the main advantages of this booster is that it is very simple to install and it doesn't need any additional tune-up. It is reliable and perfectly copes with its main task. I'm completely pleased with the purchase."
Toma from Poland left positive feedback as well: "It's a very helpful device. Although the coverage area isn't large, it's still very effective. And the price is affordable, in my opinion."
To sum up, we've collected the pros and cons of Nikrans LCD-130.
Advantages of Nikrans LCD-130:
The booster has already helped hundreds of customers to get rid of O2 signal issues in the UK.
The price is really affordable.
Mobile signal boosters provides a warranty to all buyers.
The device looks nice and stylish.
Disadvantages of Nikrans LCD-130:
The model is suitable only for small buildings.
The device supports only one frequency band.
The price of this model on our website is £200, but right now we are offering a discount and you can buy it at a price of £150, saving £50. You can place an order following the link.
---
Variant 4
Universal booster for GSM, 3G and 4G networks
Nikrans LCD-300GD is a mobile signal amplifier suitable for boosting three types of signal at a time. This model is the best solution for people who need to improve both O2 calls and mobile internet.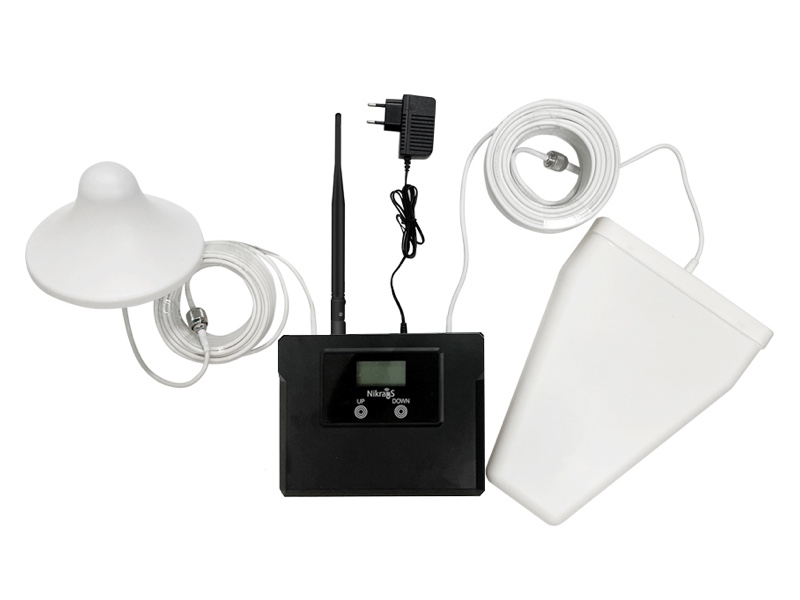 The model has an indoor coverage of 3300 ft². So it will be a good option for medium-sized buildings. The model has a number of advanced features, such as sleep mode and automatic signal control function. It is equipped with an LCD screen which significantly simplifies the installation process and shows errors if any. You can also find a user manual in the kit with a detailed description of all the options and working process of the device.
Let's turn to our customers' opinions about this booster. This is what Julia from Ireland wrote: "I have finally found what I needed! With this booster I can use voice communication normally, and the Internet speed has increased dramatically. Everything is fine, I haven't found any flaws."
Amanda from Germany also provided positive feedback: "I didn't think that this booster would really amplify the signal to stable 4-5 bars. However, it did! The connection is very good now. We have no signal issues, reception is stable in all the rooms. I can't say anything about the installation because I had it set up by a technician, but I think that it isn't too complicated." 
So let's sum up the advantages and disadvantages of Nikrans LCD-300GD.
Advantages of Nikrans LCD-300GD:
The model has a really reasonable price taking into account its advanced features. 
The booster is able to improve all types of O2 signal and it can even be used for amplifying other operators' coverage as well.
The repeater is absolutely safe, since it doesn't produce harmful emissions and it fully corresponds to the international standards. 
The company offers a full kit, so you won't need to buy anything additionally.
The model can improve signal for several users simultaneously.
Disadvantages of Nikrans LCD-300GD:
The model has a medium coverage capacity, so it won't do for large premises.
Find more information about this booster here. The current price is £510. Hurry up to purchase it with a discount and save £325.
---
Variant 5
Multifunctional 5-band booster
Nikrans NS-300-Multi is one of the most advanced O2 booster models, which is able to improve all types of signal - GSM, 3G and 4G - parallely. The device works at five frequency bands: 900 MHz for GSM calls and G, 1800 MHz for GSM calls and 4G, 2100 MHz for 3G, 800 MHz and 2600 MHz for 4G LTE Internet. Thus, it can be used not only for O2, but for other networks as well.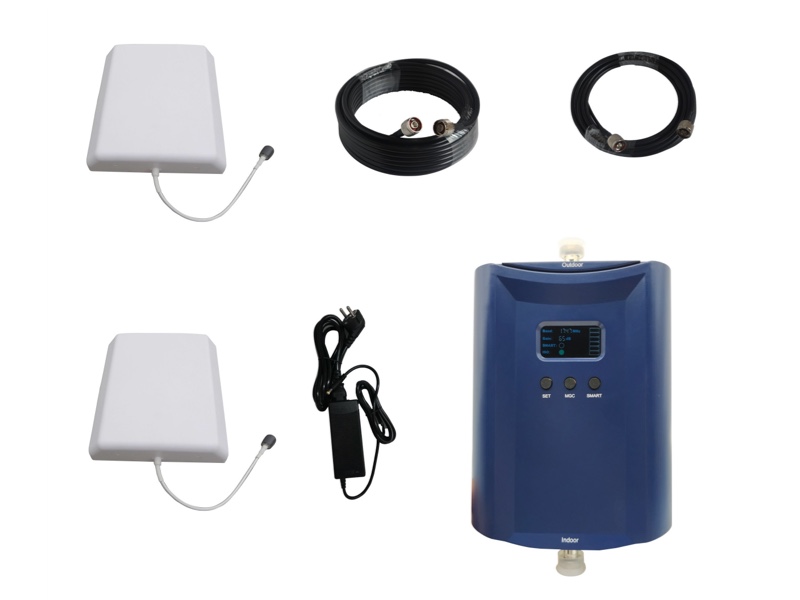 As for the indoor coverage, it's 3,300 ft². Thus, the device will suit small and middle-size buildings. These can be houses, offices, shops, cafes, etc.
The amplifier has an advanced LCD touch screen, which displays the main information about the operating process, signal level, possible errors, etc.
Let's see what users say about this model. Norman from the UK wrote: "The only thing that I would change in this device is the indoor coverage. It could have been a bit larger. But in general, the device is okay for a small city cafe. The amplification is noticeable. We have a reliable signal inside the building. The system adjusts automatically to all changes, which is very convenient. And the price is reasonable." 
Eugenio from Italy also shared his opinion: "We needed to improve both voice connection and mobile internet. Actually, not that we had no signal at all. We had very poor reception. It was so weak that we could hardly use any mobile device. The internet was very slow. I had to spend a little time on the proper installation in order to find the right place for the antenna, but after the installation connection has improved. Very happy with the product!"
We've summed up the pros and cons of Nikrans NS-300-Multi below. 
Pros of Nikrans NS-300-Multi:
The device is compatible with all UK operators and supports 5 frequencies simultaneously.
The amplifier is really powerful and effective with lots of advanced features.
The model is fully certified and corresponds to all international safety standards.
Cons of Nikrans NS-300-Multi:
The model is rather pricey.
Undoubtedly, this model is an all-in-one solution for any type of signal. However, this option is more advisable for public places and offices, rather than for private houses and flats.
Follow this link if you want to purchase Nikrans NS-300-Multi. The current price is £690.
---
Final word
We've provided you with several options for solving O2 mobile signal issues. It goes without saying that each person should make a choice based on his/her own requirements and budget.
It's up to you whether to have a homemade booster or to purchase the least expensive model on sale. 
But if you want to buy a powerful model for improving poor O2 mobile coverage at home at a reasonable price, we would recommend choosing Nikrans LCD-300GD.
This booster is absolutely safe. What is more, it is certified in accordance with international standards, and we provide you with a 3-year warranty.
So it's up to you to decide, just weigh up all the pros and cons and make the right choice! 
If you would like to clear up any questions, feel free to contact us whenever you wish.