3G/4G/LTE GSM Mobile Phone Signal Booster Antennas
If you are tired to explain to your friends and relatives why you do not answer when they call you or why their messages do not reach you when you are at home, we offer you to consider a variant of buying a cell phone signal booster antenna. It can be a 4G booster antenna if you have problems only with the LTE network mobile signal. Or maybe it could be a GSM 1800 antenna if you are one of those who suffer from the issues related to poor GSM connection. So, as you see there are many different options and you will learn everything that you want to know about mobile signal repeaters if you keep reading.
---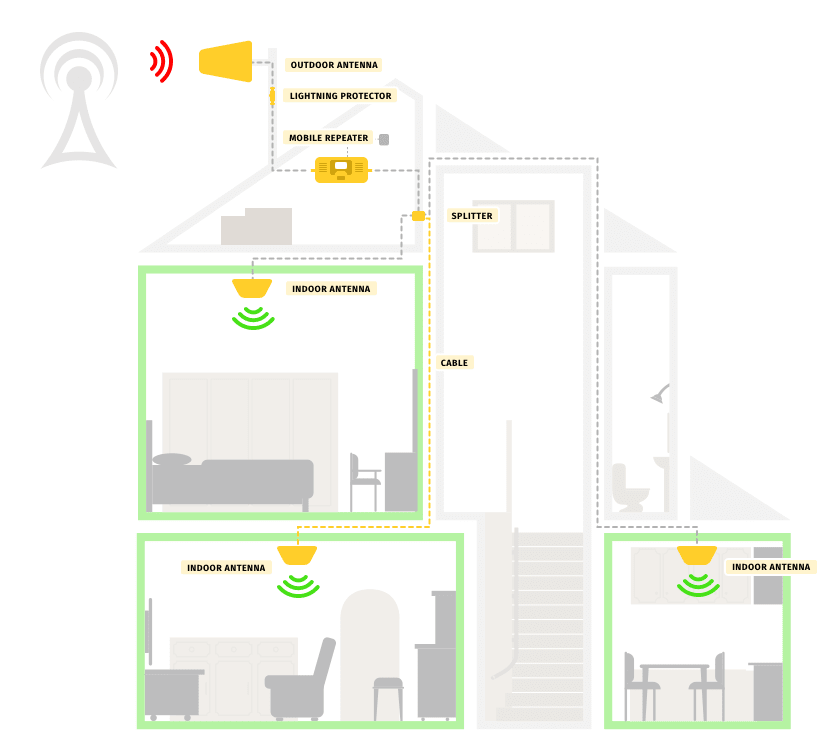 How a cell phone reception booster works
Though it may seem that a repeater is a magical device, it is not so. No magic at all. It has much common with a traditional modem.
A typical mobile signal antenna has 3 main elements. In general, there are two antennas. One of them is needed to catch the signal. This antenna should be placed outdoors.
Then the signal should be amplified. It is done by the main element of our receiver — by a booster box. After that, the signal should become available for your mobile devices. How can it be possible? That's the task for an indoor antenna. It spreads the signal within the coverage area.
---
What types of cell phone repeater reception boosters exist today?
There are different parameters that allow you to classify boosters today.
First of all, we can group all boosters based on the type of signal that they are intended for to amplify. For example, there are the following types of repeaters:
Boosters intended for improving several types of the signal simultaneously
Secondly, there are boosters intended for being placed in different locations. For example, you can order:
A cell phone signal booster antenna for home
And thirdly, we can name two types of boosters based on the technology they are powered with. Today these types of repeaters are:
Analog devices. This technology is viewed as a traditional one. Such devices have two antennas and a booster box, all the elements are connected with cables. The majority of boosters sold today are of this type.
Smart devices. It is a new type of boosters, they are wireless and more powerful than analog models. They do not have an outdoor antenna and there is no separate indoor antenna as it is hidden inside a booster box itself.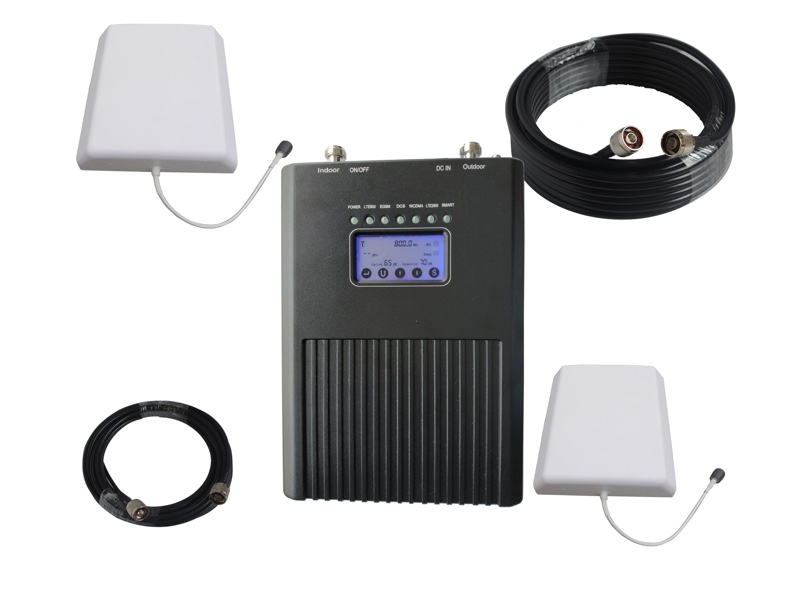 ---
What are the reasons for poor mobile signal reception?
Though we can guarantee that a reliable mobile network signal booster antenna can deal with any type of problems related to weak connection, we believe that it could be rather useful for you to understand what can lead to these problems.
To tell the truth, the list of the reasons is really impressive. However, we have decided to enumerate the most popular ones:
Distance between your house/office and the nearest cell tower. The bigger this distance is, the fewer chances you have to enjoy a strong signal without boosting it.
Landscape/urban factors. High hills, high buildings, trees — all these things can be a barrier for a signal that should reach your mobile device.
Building peculiarities. Quite often our houses are built with the usage of some construction materials that represent themselves some obstacle for mobile signals.
Sometimes, there is a huge combination of different negatively influencing factors. However, the solution is always the same. And this solution is a good GSM/3G/4G LTE antenna booster signal amplifier.
---
Are these repeaters certified?
We know that our customers really care about their health. We do just the same. The trust of our customers is the highest priority for us, that' s why we sell only those repeaters that fully meet all the strictest safety requirements. All the models of repeaters that you can find on our website are certified in accordance with CE and RoHS certification systems.
---
What can a reception booster do?
We want to stay honest with you, that's why we've prepared two lists of what a typical 4G/LTE/3G mobile phone booster antenna can do and what it is not intended for.
Though the capacities of such devices are amazingly high, you need to realize that these capacities are not limitless. That's why we would highly appreciate if you read attentively all these lists so that your expectations will be realistic and you won't be disappointed when you order such a device and install it.
So, what can (and should) you expect from your cool GSM/ internet repeater antenna?
It can amplify a mobile signal or signal that it is intended for within its coverage area.
It can ensure a stable connection in your house, office, car or on your boat.
It helps to expand the reception area of your mobile signal.
However, what does not this device do?
It can't create a signal if such a signal is not broadcasted by your carrier.
It can't ensure a stable connection outside your building or vehicle.
---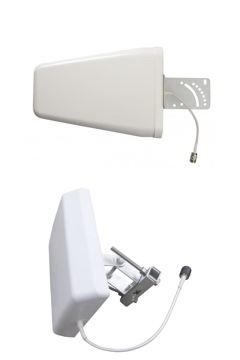 Outside home/building antennas: different types
As we've already mentioned typical boosters have an outdoor antenna. Its task is to find and catch a signal. Though many of our smartphones today are really advanced devices, quite often their in-built antennas are not powerful enough to receive weak signals. However, antennas of our boosters easily cope with this issue.
The best place to install your outside antenna is the roof of your house. But we all understand that quite often it's unreal. In this very case, we recommend to fix it on the wall, near the window outdoors. If we speak about devices for vehicles, antennas are to be installed on the roof as well. Do not worry! These elements are fully protected from the influence of external factors such as sun, rain, snow, etc.
The antennas can be of different types:
These antennas are intended to perceive the signal coming only from one direction and they are strongly concentrated on monitoring the chosen direction in order not to lose the signal. You need to know for sure where the closest cell tower is and direct your antenna correctly.
Omni-directional. These antennas can catch the signal coming from any side/direction (from 360 degrees).
---
Inside antennas: why do we need them?
Inside antennas are extremely important for the correct functioning of your signal booster. Okay, let's be honest. Without this antenna, your phone simply can't get access to the amplified signal feed. Yes, without this antenna the signal will be still boosted. But who needs this signal if you can't enjoy it?
Quite often one antenna can be not enough to cover all the areas inside a building that you need. However, splitters and additional antennas can easily solve the problem.
By the way, there are two types of inside antennas as well:
Panel antennas can send the signal only in one direction;
Dome antennas are intended for sending the signal in all directions.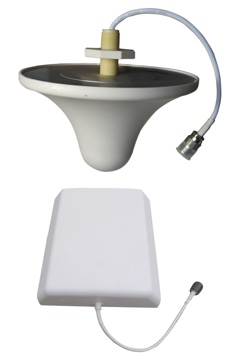 ---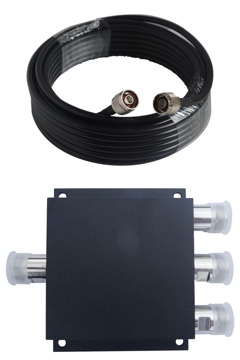 What's about cables and connectors?
The elements of any traditional analog GSM/3G/4G antenna for home or office are connected with the help of coaxial cables. If you order a mobile repeater on our website, you will get a full kit. It means that you do not need to care about where to buy a cable and what type of cable to choose.
We recommend you not to use cables that are longer than those that are included in the kit as some strength of the signal will be lost while the signal will be transmitted. If you use the signal that is included in the kit, it will guarantee the minimum loss of the signal power.
---
Cell phone signal booster for home usage
If you are wondering where you can buy the best antenna for cell phone signal, our answer is very simple. You can choose such a device in our catalogue and order it on our website.
Please pay your attention to such parameters as:
Types of signal this or that device is intended for;
Coverage area of the device;
Compatibility with your carrier.
---
Great cell phone signal boosters for vehicles
If you need to have a stable connection during your trips, you can buy a device for your vehicle. Though in general, the working principle is practically the same as of boosters that are intended for houses, these devices are a little bit different. And it is obvious that you can't place a typical booster for home in your cat. But do not worry! The range of devices for vehicles is really wide.
In this very case, the coverage parameter is not a crucial one. But do not forget to check compatibility and types of signals that a booster works with.
Review home & office, and/or vehicle cell phone signal amplifier kits in our catalogue!
Though the devices that we offer may be really different, there are a couple of things that unite them all.
They all are:
Reliable
Powerful
100% safe
Reasonably-priced (we guarantee the best price!)
If you need our help in making choice or you have any questions, we are always here. Just contact us.