There are many various factors that may have an impact on the quality of your mobile connection. Of course, one of the most popular reasons for the signal deterioration is a distance between your location and the nearest cell tower of your operator. However, quite often we forget that the construction materials that were used for building our house can also matter. For example, metal and concrete are quite widely-used materials in construction. They have a huge range of advantages that explain their popularity. But despite their benefits, we can't say that they are absolutely perfect as there is one huge disadvantage. They badly affect the transmission of a mobile signal.
That's why if you notice any issues with your signal, it can be rather sensible to analyze what types of building materials were used before blaming your operator. Quite often the signal outdoors can be stable and rather strong but indoors the situation is much worse. Our customers regularly turn to us with questions about how to boost phone signal in a building. And if you have found this page, you are lucky as we definitely know the answer and are ready to share it with you.
In this article, we will explain how to boost cell phone signal in a metal building. Just keep reading and you will find out the easiest ways to check the quality of your connection as well the approaches to choosing the best cell phone signal booster for metal building.
It's important to note that installing an in-building signal booster is not the only option for you if you are not satisfied with the quality of your connection. Let's start with the variant that you can try out right now.
---
The best solution for mobile connection issues in any region of the World
If you are tired of dropped calls and unsent messages, we know what we can offer you. We are on the market for more than 10 years and over this time we've helped thousands of people in different countries to stabilize their connections at home or in their offices. Our devices are absolutely reliable and 100% safe.
Contact us to find the most efficient model to strengthen the signal of your mobile operator.
Way 1. Try to reduce the impact of other electronic devices on your mobile phone connection.
If you notice that in some in-house areas your mobile connection is worse than in others, you can try to minimize potential electromagnetic interference there. It can help to boost cell phone signal inside building. What exactly can you do in this case? You need to keep wireless electronic devices, including your Wi-Fi router, away from the spots where you prefer to use your mobile phone. This method will help if the existing electromagnetic interference was the only factor that spoils tour connection.
---
Way 2. Check the mobile signal in your neighborhood.
The problem is that quite often we start panicking too early. For example, if your carrier performs some technical works in your area, some services may be unavailable and the connection can be unstable. Of course, operators usually do their best to finish these works as soon as possible but sometimes the entire process may take days (or even weeks, though this variant is very rare).
But at the same time, there can be such situations that the area where you live or work is not just properly covered by your operator. Especially it may happen when you have recently moved to a new house. In such cases subscribers may make a very unpleasant discovery and find out that it will be rather sensible to opt for another operator as the cell towers of their services provider are located too far away.
Today there are a lot of various websites and apps that may help you to check the quality of the signal at your place. With the help of the same tools, you can see where the cell towers of your carrier are situated. Below you can find just a few examples of such apps and sites:
On CellMapper you can find real-time data to see where the nearest cell towers that transmit 4G signals are located. There is also such an app for Android users.
CellReception relies on the Google Maps service and also shows cell towers in your area. You can use filters to see the towers only of those operators that you are interested in. However, CellReception provides information only about a limited range of carriers.
OpenSignal is a mobile app that you can download on both Google Play and App Store. It does not provide maps that show where cell towers are located but you can see the strength of the signal of different networks in your area.
If with the help of these tools you see that everything is okay with the quality of the connection in the neighborhood, the most likely reason for your connection deterioration is the construction materials used for building your house.
But it is not a reason to move to another place. We have one more answer to the question "How to boost cell phone signal inside metal building?"
---
Way 3. Install a signal booster for metal building
This variant may seem to be too simple. But it really works.
Such a booster will catch the signal transmitted by your operator and makes it stronger, so that your mobile phone will be able to get connected.
Even in a metal building, cellular signal booster system will perfectly work.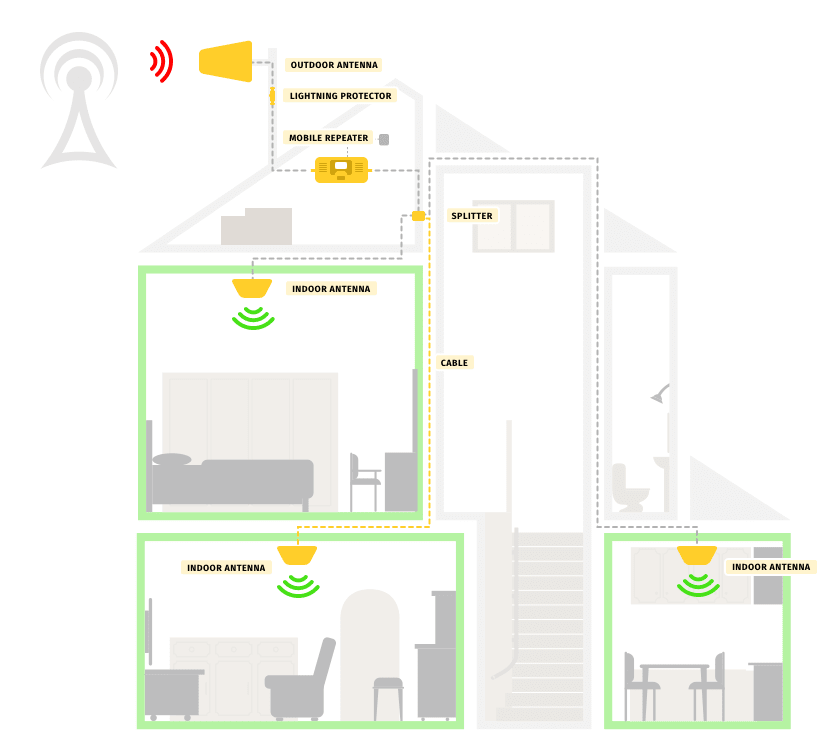 A mobile signal amplifier has a very sensitive outdoor antenna which is able to find the signal that is too weak to be caught by your smartphone. We usually recommend installing this antenna on the roof but we know that it is not always possible. That's why you can find a good place for it outdoors near the window.
A device also has another antenna. It should be installed indoors and there are no specific requirements for its installation. This antenna enters the game after the signal is amplified by a booster box that should also be located indoors.
As you may have already understood, an indoor antenna is responsible for sending the improved signal within the coverage area of the device, so all smartphones and tablets can use the stabilized signal. It means that thanks to the support of multiple connections, it will be enough to install just one device for your family or office.
All the elements of an amplifier should be connected with a coaxial cable that you will receive together with your order as we sell only full kits of the devices. Moreover, you will also get a detailed guide with all the necessary instructions. If you follow all the tips provided, you will easily manage to install a signal repeater on your own just within 15-20 minutes.
With the help of such boosters, you can improve the quality of any signal sent by your operator. On our website you can find devices for boosting GSM, 3G, 4G signals as well as dual and tri-band devices, they can be an ideal variant when you need to improve several types of signal at the same time.
In our catalogue, you can find boosters for metal buildings of different sizes: from small houses to huge office buildings. Please, be very attentive while making a choice in order to ensure that the device that you are going to buy will have sufficient coverage to efficiently stabilize your connection within the entire in-house area.
Get Perfect Phone Calls, 3G and 4G In Your House, Office and Car
Helping you to find the best mobile signal booster is a pleasure for us. We're working for providing you the strong and stable mobile coverage and internet connection. With a signal booster you can use your phone freely.
---
Our repeaters are absolutely safe and you may leave all your fears about any potential harm of its use aside. Though some people think that signal boosters have too high radiation emissions, it is not true. Using a signal booster, you can even ensure the decrease of the radiation emitted by your mobile devices. It means that boosters can be installed in any room of your house or office.
If you want to get more information about our devices, please do not hesitate to contact us and ask us all the questions you have.