Today it is difficult for us to imagine that we can stay a day (or even an hour) without an internet connection. Unfortunately, sometimes we may face difficulties in getting connected to WiFi at home or the speed of data exchange is too low. If these problems are rare, we do not worry much about them. But when they are permanent, that's a completely different story that requires a modern solution. And in this case, we can recommend you to install a WiFi network booster for home. It will improve the quality of the signal that is being sent by your router and solve your problems once and forever.
---
Why do I need to buy a WiFi extender?
A WiFi booster for home in UK is a rather popular device. And there are many reasons why people may need to buy it. Below you can find just a couple of them:
No signal in some rooms due to thick walls;
Low signals in the rooms that are far away from the place where a router is installed;
Unstable connection due to the fact that too many devices are using the WiFi signal simultaneously.
But regardless of the reasons for your bad WiFi signal, a reliable WiFi network booster for home will help you.
---
How much should I spend on a WiFi extender?
The main factor, that influences the price of a home WiFi booster, is the power of the device. The power and its coverage area are directly related. So, if you have a rather small flat or house you do not need to buy an extender intended for huge cottages or commercial buildings in order not to overpay.
But in any case on our website you will find only the best prices for excellent boosters!
---
How do we test our WiFi extenders?
Before offering various devices to our clients, we always test them on our own. We rely not only on laboratory testing procedures (though they are also carried out) but we also focus on testing our devices in real-world situations. We check their performance with the help of popular streaming services and try to connect multiple devices to the improved network.
We always pay attention to the ability of a booster to work in various conditions and to deal with the tasks of different complexity.
---
Best WiFi booster for home in UK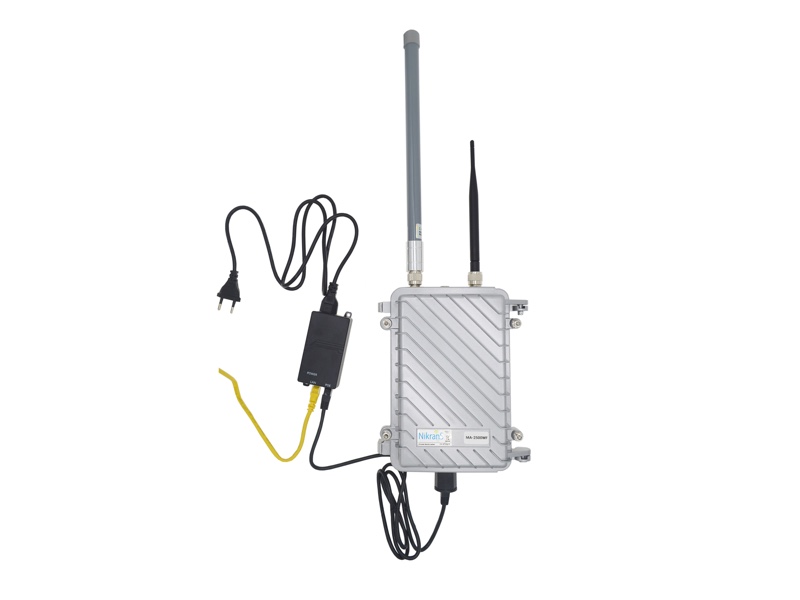 Wi-Fi Repeater Nikrans MA-2500WF can be named the best home WiFi signal booster without any doubts. And let us mention at least a few benefits of this device for you.
First of all, it is absolutely easy to use. You do not need to download any additional programs and install them on your devices that should be connected to the internet. Moreover, there is no necessity to make any additional settings. You just need to install a booster and it will start functioning.
As for the installation itself, there is nothing to worry about. There are just a couple of elements that you need to think about. The main tasks will be to screw the antenna and to connect the booster with a router. It should be done with the help of the cable that you will get together with your order.
When you order a WiFi booster for home on our website, you always get a full kit. It means that you do not have anything to buy separately. Moreover, together with your device, you will get a manual with all the necessary information.
The device is extremely reliable. It has been developed in accordance with the highest modern technical standards and tested in professional laboratories.
Modern design and compact sizes are also among the benefits of this device. You can place it in any room and if you wish it can be easily hidden somewhere, for example, under a table or behind it.
The device is fully compatible with all modern WiFi routers.
And of course, we are doing our best to offer the best price for our devices! We understand that an affordable price is one of the key criteria for making a choice. That's why ordering a booster on our site, you can be sure that you won't overpay.
So, are you looking for a home WiFi booster best? Buy our Wi-Fi Repeater Nikrans MA-2500WF! It represents itself a perfect combination of excellent quality and price!
But it's clear that we can tell you a lot about the benefits of this WiFi network booster for home. However, when you want to analyze information about this or that device, the words of people who have already bought this device are much more valuable than our arguments.
If you are considering a variant of buying a WiFi signal booster for home, reviews from our clients will help you to make a decision.
---
We live in a two-storey private house and our WiFi router is installed on the ground floor. As a result in some rooms upstairs the quality of our WiFi signal used to leave much to desire. However, everything changed when we bought Nikrans MA-2500W. It was absolutely inconvenient that we couldn't get connected to the internet when we were in the bedrooms, so we decided to look for a solution. At first, we wanted to buy an additional router but we found out that there could be difficulties with switching from one network to another. So, we order a booster! It arrived just in 3 days. And we are fully satisfied with it.
---
Thanks for this booster! I had a lot of doubts before buying it but I decided to try as the price was affordable and, moreover, I was completely tired of having problems with the WiFi signal at home. In some places, the connection was perfect while in some spots I hardly ever could even get connected. I often work from home and an excellent connection is a must for me. Today I can assure you that Nikrans MA-2500W really works. It turned out to be a pleasant surprise. I managed to install it completely on my own and it didn't take long, just 5 or 7 minutes. I can sincerely recommend this WiFi booster for home.
---
Do you want to buy the best WiFi booster for home? Then what are you waiting for? Just place an order and in a couple of days, it will be delivered! Do not hesitate to contact us in case you have any questions about the device, its installation or delivery.