If you have a poor mobile connection indoors the solution is much easier than you can even imagine. You do not need to build your own cell tower or even change your mobile services provider. Just buy a special cell phone booster for office or house and forget about all the issues within a couple of minutes.
There can be situations when you are not satisfied only with the quality of your mobile internet while voice services are excellent or vice versa. But there are also cases when the signals of all the types leave much to desire. However, if you are reading this text, you are lucky. As we have an appropriate mobile network booster for office for any situation.
---
To buy or not to buy a cell phone signal booster for office
While some people have doubts, some others act. But of course, before doing anything you should have a clear understanding of why you are doing. So, we can tell you why you should buy a booster but let's better see when you shouldn't do it:
If you like dropped calls;
If you enjoy slow internet;
If unsent messages are okay for you.
In all other cases, just buy a cellular booster for office.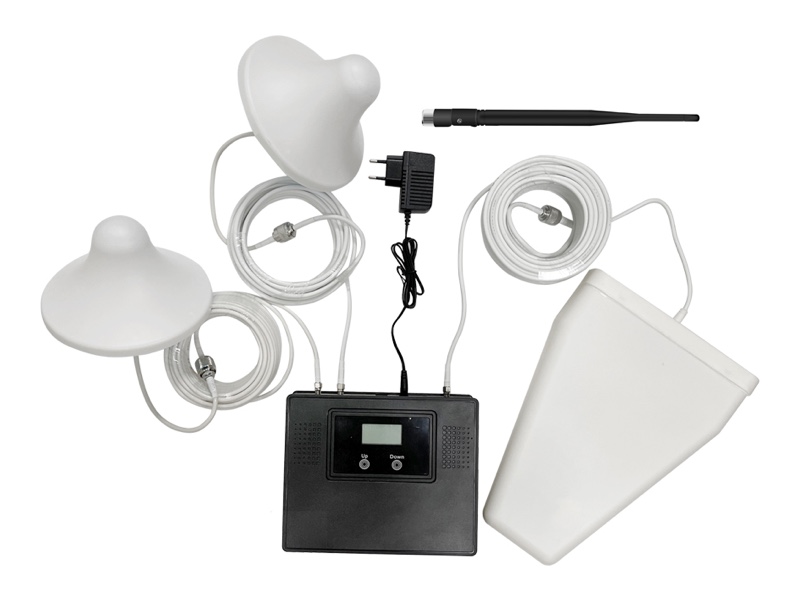 Coverage: 10800 ft²

 · 

3 Band (GSM, 3G, 4G)
Coverage: 21600 ft²

 · 

5 Band (GSM, 3G, 4G)
---
How to install a signal booster?
There is no difference what model you will choose as the best cell phone booster for office, the configuration is always the same. There are three main elements:
A booster box (it amplifies the signal);
Two antennas (one antenna should be placed outdoors to catch the signal, the second one will be indoors and it will transmit the signal within the coverage area of your device).
All the elements should be connected. It should be done with a cable. What is really cool about our boosters is that you receive a full kit. So, you do not need to buy any extra elements.
Moreover, you will get a guide on your cellular booster for office. Following the instructions, you will install the repeater without any difficulties. What's more, it will take only around 15-20 minutes as your key task is just to find good places for each element and to connect the booster box with its antennas.
Can a signal booster be installed in the office?
Today the best mobile signal boosters are not for private use only. A mobile network booster for office is absolutely not a dream but a reality.
The main characteristics that make such a device appropriate for an office are:
There are devices with wide coverage which means that even if you work in a big office, you can buy just one booster and it will be powerful enough to cover the entire indoor area.
Boosters support multiple connections. It means that not only you but all your colleagues can enjoy the improved signal.
Boosters can deal with the signals of several operators simultaneously. Each repeater is intended to deal with the signal or signals transmitted at some frequency bands but as a rule, the majority of operators in the country share the same frequencies. It makes them appropriate for subscribers of different carriers.
How to find the right mobile repeater for office?
If you want to find the best cell phone booster for office, there is just a couple of things that you need to take into account. They are:
The sizes of your office (you do not need to buy the most powerful and expensive booster if you work in a small office);
The signals that you need to improve (there are GSM, 3G and 4G boosters, moreover, there are devices that work with all the signals at the same time);
The operators that a booster is compatible with.
In our online catalogue, there is a special search system based on filters. So, you will easily get a list of appropriate amplifiers.
But please bear in mind that our client support managers are always ready to help you and answer all your questions.