If you are an owner of a hotel, an administrator of a supermarket, a manager of a shopping mall or just work in the office building, you definitely know how important a good WiFi connection is for both workers and visitors. Unfortunately, quite often even the most powerful WiFi routers are not able to ensure an excellent signal in all the spots of your indoor area. In such a situation many people try to change their WiFi services providers or to install an additional router. However, these methods do not seem to be very feasible, especially when there is another solution. What do you think about ordering a commercial WiFi booster? If you have never considered such a variant and even haven't heard about such a device, we hope that our review of a commercial WiFi signal booster will be of great use for you.
A Wi-Fi booster is a special device that is able to catch the signal that is transmitted by your router and to make it stronger and more stable. As a result, you will have an excellent connection even in those rooms that used to be "dead spots".
There are various models of such devices but we offer you to pay your attention to Wi-Fi Repeater Nikrans MA-2500WF.
---
Best commercial WiFi booster
If you are looking for a commercial WiFi signal booster, Nikrans MA-2500WF is definitely what you need. It's a reliable device that meets all the modern requirements of users. It is compatible with the majority of Wi-Fi routers that are installed in the UK these days and is completely easy to use. But let's start from the very beginning and take a closer look at this device and its capacities.
Strong points:
It is a comparatively small device (129*95*30mm). Even if you plan to install it in a small room, you won't have any problems with it.
It supports multiple connections. It means that even if you are going to use this commercial WiFi signal booster in a shopping mall or in a hotel, all the visitors will have an opportunity to catch the improved Wi-Fi signal and enjoy a high speed of the internet connection.
The coverage area of Nikrans MA-2500WF is 27000 ft². And it is good coverage for any commercial booster (and in this case, there is no difference whether we are talking about a GSM or Wi-Fi booster).
It can work at a wide range of temperatures (-25/+55 °C) which means that it can be installed practically in all the types of commercial buildings.
Downsides:
Nikrans MA-2500WF does not have a USB-port, so you can't directly connect some hardware to the network without a computer or laptop. However, we should admit that even not all modern Wi-Fi routers have such a port.
The model of this booster comes in one color only. So, you have no choice. But at the same time, the device is rather compact, so you can easily hide it if you think that it doesn't suit the design of your room.
---
How to install Nikrans MA-2500WF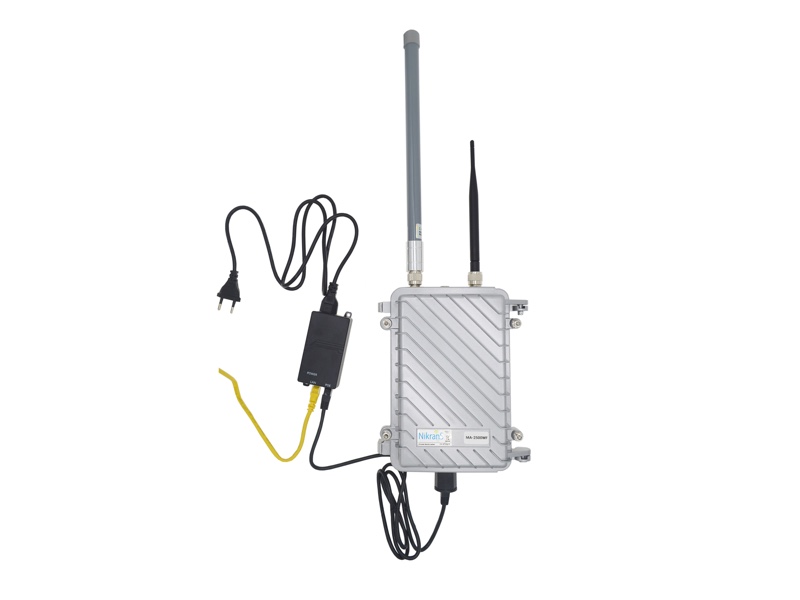 If you want to install this commercial WiFi booster, no special technical skills are required.
You just need to read attentively the instructions in the manual that you will get together with your order and carefully follow them.
The installation process will take just a couple of minutes.
You need to:
Screw an antenna;
Connect a booster with a router using a SMA cable;
Switch the device on.
Please pay your attention that all the elements that you need to have for using a booster are included in the kit. It means that if you do not want to upgrade your Wi-Fi booster due to some special conditions in which you are going to use a booster, you do not need to buy anything additionally.
A GSM and WiFi booster commercial or for private use is always a good solution for any problems with your connection. And we are here to offer you the most suitable device for your situation. You can contact us to ask any questions or make an order. But you can also use a convenient online form to order the best commercial WiFi booster. The delivery in the UK usually does not take longer than 7 business days and each client gets a 3-year warranty.
Want to learn more? Contact us right now!