Vodafone figures among the major telecoms companies in the UK claiming to provide the population with 99% coverage for 2G, 3G and 4G networks. It is to underline that only Vodafone, alongside with its competitor EE, offers LTE-Advanced service. Though, this super-fast connectivity rivaling fibre broadband isn't available throughout the country. Despite the efforts of the operator and its strive to render impeccable mobile services to customers, there exist the areas where the coverage remains patchy and causes lots of troubles to mobile phone users.
The situations when no Vodafone signal is detected are rather common. In cities a signal has to find its way to a user through high-rise buildings covered in glass, metal, etc. Outside cities especially in provincial towns or villages Vodafone poor signal may be caused by the peculiarities of their location where natural landscape creates barriers for signal transmission (thick forests, mountains, etc.)
So, what can be done when a phone says no Vodafone service or searching for service? It means that at this moment you can't use it for calling, texting and mobile Internet. In such cases it's advisable to following some simple steps:
Check your coverage with Vodafone network status checker. It may happen that you are in a zone with limited or no coverage at all.
Restart your phone or other mobile device in use.
Check whether Vodafone has updated its settings.
Reset your network settings.
Contact Vodafone to check that your phone isn't blocked from receiving mobile and data services.
If none of the above mentioned helps and you constantly struggle with getting a decent signal in your premises, then it's right time to think of acquiring a mobile phone signal booster Vodafone.
Let's consider the last point in details. How can Vodafone signal booster be helpful and which results may you expect in terms of connectivity?
The best solution for mobile connection issues in any region of the World
If you are tired of dropped calls and unsent messages, we know what we can offer you. We are on the market for more than 10 years and over this time we've helped thousands of people in different countries to stabilize their connections at home or in their offices. Our devices are absolutely reliable and 100% safe.
Contact us to find the most efficient model to strengthen the signal of your mobile operator.
A Vodafone signal booster represents a rather small in size amplifying box, two antennas and cables.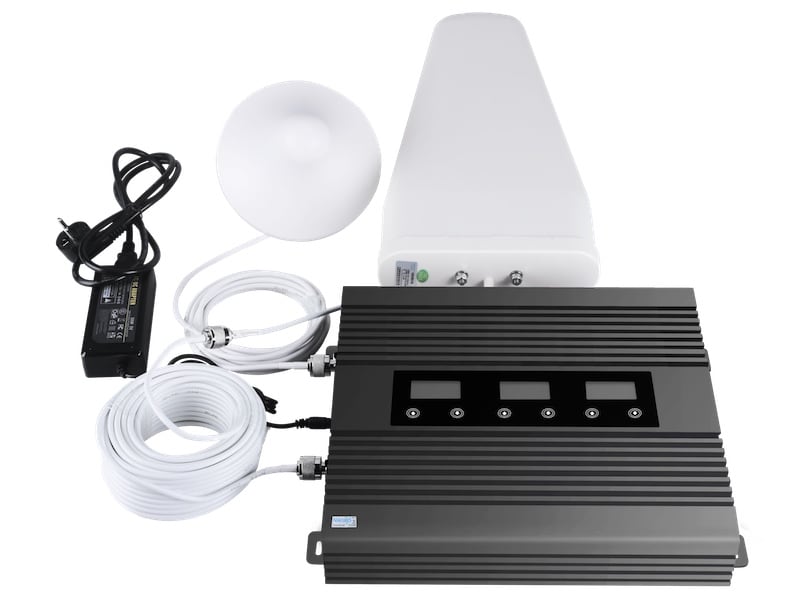 The proper functioning depends on the way you fix the indoor and the outdoor antennas. The latter should be positioned on the wall or rooftop and pointed towards the base station so that the antenna manages to catch the weak signal.
Then this signal will run through the cable to the amplifier box where it will grow much stronger.
The role of the indoor antenna is to rebroadcast this ultimately amplified signal to all corners of your premises. The whole system isn't perceptible and bulky so its installation will not be a black spot in your interior.
---
Today Vodafone is quickly heading towards 5G which will for sure slowly oust 4G from the market. In this light, it would be a big nonsense to still face signal issues and not to benefit from the advantages offered by new technologies like 4G LTE. Our company offers an impressive range of LTE signal boosters with LCD250-GSM+4G PRO being the most frequently selected model among customers. It assures great amplification and its coverage area is optimal for flats and medium size offices. Vodafone signal booster is definitely a device to change this annoying situation with poor signal for better.