Unfortunately, problems with WiFi connection are not a rare thing. But what is extremely good is that you can solve these problems regardless of their nature. And that's exactly what we are going to talk about in this article. The reasons for your poor WiFi signal in your house or office can be different. For example, your router is not powerful enough or there are some physical barriers like thick walls that prevent your signal from reaching your devices.

Nevertheless, all this is not a reason to panic; it's a reason to buy a WiFi signal booster.
---
WiFi signal booster: What is it?
If you have ever heard about mobile phone signal boosters, it will be quite easy for you to understand what a WiFi repeater is. It is a special device that takes a signal and makes it stronger. While mobile signal boosters work with the network of your carrier, WiFi repeaters get a signal from a router and strengthen it. When the signal is stabilized, it is sent to all devices that can use it.
WiFi signal boosters can not only interact with routers, they have a special mode and can also function as routers themselves. 
---
Nikrans MA-2500WF is the best solution
For those who are looking for a reliable solution to deal with signal problems, we can recommend considering the Nikrans MA-2500WF WiFi signal booster. It is intended for improving the signal indoors but if you want to ensure stable connection outdoors as well, you can buy additional antennas and enjoy excellent signal outside as well.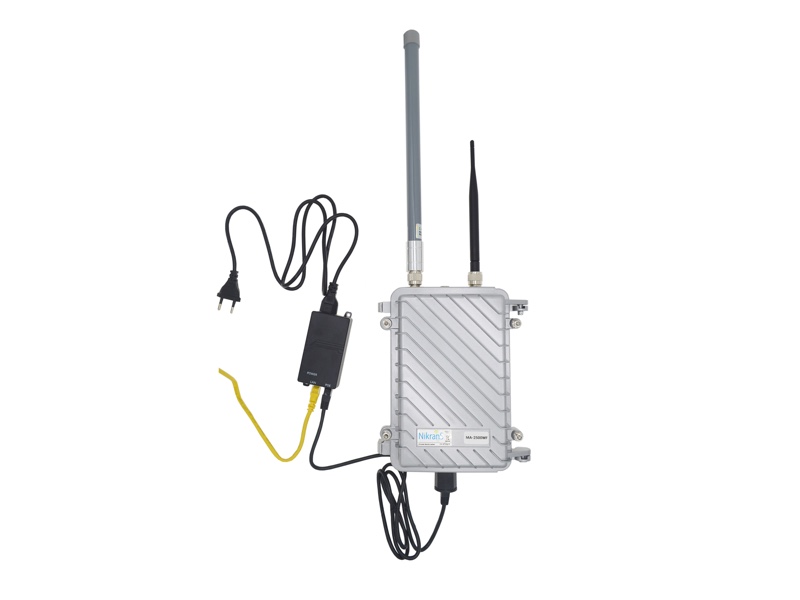 The booster has a coverage area of 5400 ft². It means that this model will be suitable for both private houses and office buildings. Moreover, it can be also installed in hotels, cafes, restaurants, medical centers, gyms, and other places with a lot of visitors.
The device has 2 whip antennas and one LAN cable. And its installation itself will be quite simple, even if you have no previous experience of this kind. Just read carefully the instructions that you will find in a User's manual and you will cope with this task.
The configuration of the booster is rather simple and the device is rather compact which means that you will easily find a place to install it in your room. As a rule, the best location for a WiFi booster is in the same room where your router is situated as it is important to find a place where the signal is the strongest.
---
Why Nikrans MA-2500WF?
So, what is so special about this model?
Easy installation. Usually, it doesn't take more than 10-15 minutes.
Safety. If you buy a booster on our website, you can be sure that you will get a high-quality device that is safe for your health. International CE and RoHS certificates that we have are the best proof of our words.
Reliability. Before selling these devices, we always carefully test them in professional laboratories and we are absolutely sure that we offer only the best products to our clients.
Possibility to extend its coverage. If a standard coverage area is not enough for you, you can use additional antennas.
Where can you find the Nikrans MA-2500WF WiFi signal booster? You can just follow the link and open the page with this model in our online catalogue.
Place an order and in a couple of days it will be delivered by a courier service. But if you have any questions about this model or any other boosters, do not hesitate to contact our specialists. We are always happy to know that we can help you.