If you are surfing the internet and trying to find out how to boost signal strength on Android phone, congratulations! You have just opened the right page on the right website.
Though today there are a lot of Boost signal strength Android apps, their efficiency leaves much to desire. That's why we'd like you to offer another solution that will really work. We'd like to recommend the installation of a special device called a mobile signal booster in your house or office.
---
How does a signal booster for Android phones work?
In general, we should admit that despite its high productivity and efficiency, a traditional mobile repeater looks rather simple. This device has three key elements that work in close interaction to strengthen the power of your signal. These elements are:
An outdoor antenna;
An in-house antenna;
A booster box.
All the elements should be connected with a coaxial cable that you will receive with your order.
The first antenna should be mounted somewhere outdoors. The best location for it to be placed is the roof of your building. But as it is not always possible, that's why you can fix it somewhere near the window outdoors. This antenna has a task to detect and catch the signal transmitted by your operator.
Then it transfers the caught signal to a booster box which is able to amplify even the lowest signal. As soon as it is done, the second antenna starts disseminating the improved signal within the coverage area of your amplifier. As all the boosters for home or offices support multiple connections, more than one Android phone can use the strengthened signal.
---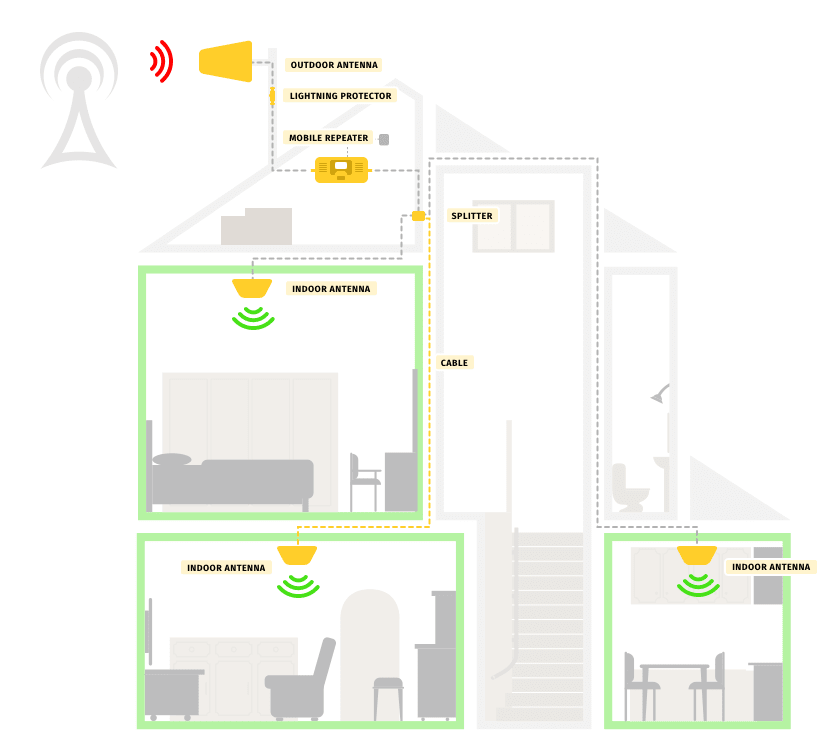 What is the best signal booster for Android?
The main characteristics of the best signal booster are:
Reliability;
Power;
Safety;
Compatibility with the network that you want to improve;
Sufficient coverage.
As for the first 3 points, you can be confident that your device will have such characteristics if you order an amplifier on our website.
As for the 4th and 5th points, they require some explanations.
Different boosters are intended for improving different signals. If you buy an amplifier to boost 3G signal, Android devices will be able to get connected to the 3G network faster and stay connected without interruptions. The same we can say about GSM or 4G boosters.
But today you can also buy a dual-band device or even a tri-band amplifier. In case you order a dual-band device that can be used to amplify GSM signal and, at the same time, to boost 4G signal, Android smartphone will have a stable interaction with two networks simultaneously.
However, it is not the only parameter that may differ. As we have various models of boosters, there are devices for buildings of different sizes. You can buy a repeater for a small office or for a huge cottage. Please be very attentive, as a booster for a small office will not be able to cover all the rooms of the cottage with an improved signal.
Contact us and we will help you to choose the best network signal booster for Android in your case! We guarantee the highest quality of our devices and the most affordable prices.